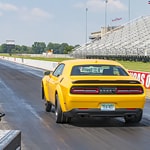 The new Dodge Challenger is one of the most popular muscle cars on the road today. It has the powerful and impressive exterior designs that command attention and make it the envy of all car buyers.
While it comes standard with 18-inch satin polished wheels, it can be upgraded to 20-inch brass monkeys that deliver power and fury whenever the new Dodge Challenger is in motion. It also features striping that highlights its status as a muscle car.
You will find R/T stripes on the body that are a throwback to the car's earlier classic days. It also comes with a scat pack bumblebee stripe that gives the Challenger a definitive aesthetic edge over its competition. The striping finishes on the hood with a wide blacktop stripe that gives the Challenger an intimidating and sporty look.
All of these exterior features combine with the brand's signature badge. Find badges on areas like the engine block and grille.