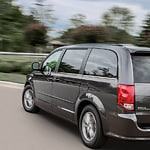 Take a long look at the Dodge Grand Caravan and you are sure to notice how convenient the features on the exterior have become. Not only is this a great looking van, but it is one that has the features you really need the most. From sliding doors to a liftgate that opens automatically, you will wonder how you ever lived without this van.
The power sliding side doors are a real benefit. These will open and close for you quite easily so you no longer need to use your hands to perform this task. This allows you to get in and out of the van with ease.
You can also keep your hands full of your belongings and still get the liftgate open. This is an available feature on the Dodge Grand Caravan that you will love. When you kick your leg out under the bumper, the gate opens right away from you. It has never been easier to load up the rear of your van.