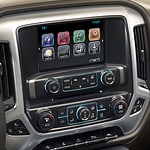 We at Erwin Chrysler Dodge Jeep Ram know it's important for you to stay connected on the road from Troy, OH to your destination. Android Auto overrides your manufacturer's system and replaces it with your Smartphone's system.
This connection helps you use your phone as little as possible to stay safe and legal. However, you won't get all of your Smartphone's features because it can be distracting. The Google-like interface gives you basic functions, such as calling, playing music, and voice messaging. Google Assistant reads the messages but keeps notifications hidden until you disconnect.
Check your phone's battery usage and signal strength displayed in the upper right corner. A useful feature of Android Auto is it searches for an alternate route to avoid heavy traffic. Your phone screen stays locked until you swipe while in Android Auto. Older phones connect using a USB port, but newer phones use wireless connections.